Baby Shower Party Kits/Balloon Garlands, Baby Shower Decorations
Baby Shower Party Kits/Balloon Garlands
This is the PERFECT Woodland Baby Shower Decor on the market. You will receive everything you nee...
This Woodland Diaper Cake Kit is the perfect DIY to design the perfect decoration for the baby sh...
Looking for some beautiful baby shower décor have a special welcome party for your little newcome...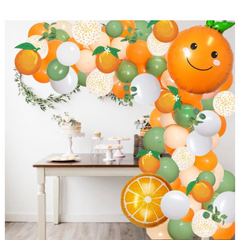 Decorate the upcoming citrus theme party with this exclusive Little Cutie Balloon Garland.Little ...
Pink Elephant Baby Shower Decoration for Girl with Guest Book, It's a Girl Banner, Garland Paper ...
This Pink and Gold Baby Girl Balloon Garland Kit includes everything you need to create the perf...